With the rapid development of national economy and the improvement of people's living standard, the energy demand of heating, air conditioning and domestic hot water is increasing, which is the main part of energy consumption of general civil buildings. In developed cities, the energy consumption of air conditioning in summer, heating and heating in winter has accounted for 40 ~ 50% of the total energy consumption of buildings. In particular, the extensive use of coal-fired boilers and oil fired boilers for heating in winter has caused great pollution to the atmospheric environment. Therefore, building pollution control and energy saving has become a major issue in the development of national economy. Air source high temperature heat pump or high temp heater in hot water temperature up to 85 degrees, air source high temperautre heat pump or high temp heater in drying can also achieve 95 degrees of high temperature hot air.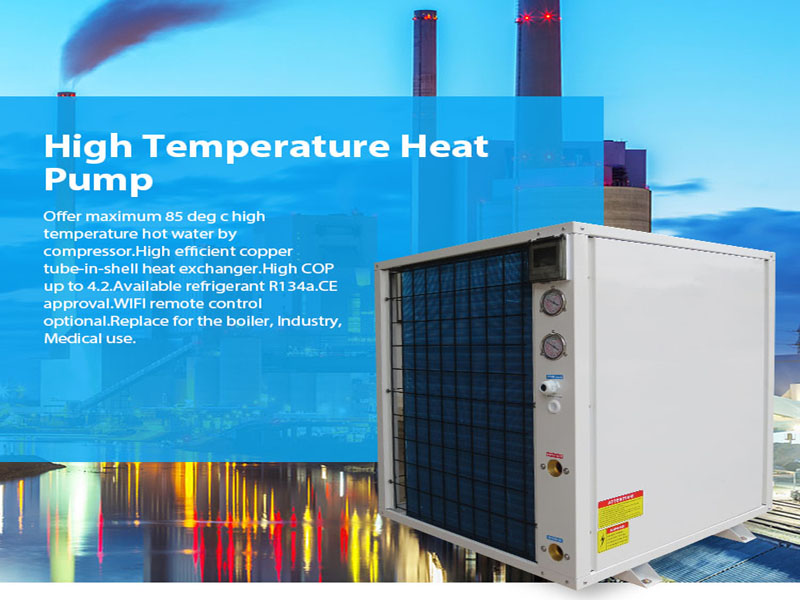 Compared with the air source heat pump technology with the output temperature below 55 ℃, the air source high temperature heat pump can achieve the heating temperature above 60 ℃ without changing the operating environment of the equipment, and maintain a high operating efficiency and stable operating state. Generally, the following key technical problems need to be solved.
1. Compressor selection: the common compressor types of heat pump equipment are screw compressor, fully enclosed scroll compressor and semi enclosed piston compressor. Through the comparative study on the working characteristics of different types of compressors, the U.S. brand 3T fully enclosed scroll compressor is generally selected for high temperature air source heat pump equipment.
2. Selection of working medium: in order to ensure that the high temperature heat pump equipment can be used under stable allowable working pressure, special refrigerant is used as working medium, which has high heat exchange efficiency, no pollution to the environment and no damage to the ozone layer.
3. Optimization of fluorine system control: ensure the long-term high-temperature stable operation and service life of the whole unit, and automatically adjust the operation status and components of high-temperature air heat pump equipment according to the ambient temperature and evaporation temperature.
We OSB heat pump factory got more and more demands for high temperature heat pump of 85 deg c outlet. Which heating the water up to maximum 85 deg c by compressor, not by additional heating element.
Ideal to replace boilers, and suitable for radiator heating or fan coil heating.
Below units are our high temperature heat pump unit up to now: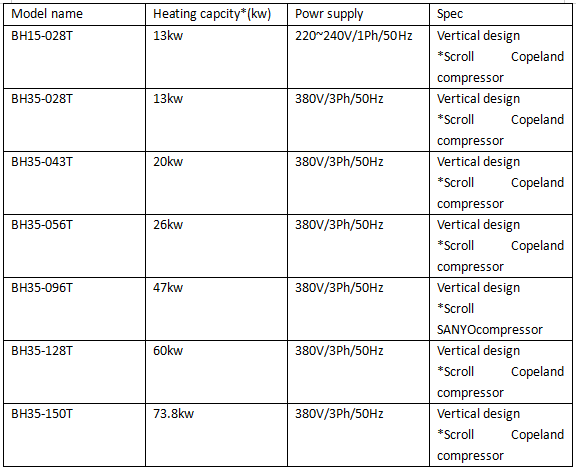 We are orginal by SHNEBAO with making air-conditioner in 1999.
With rich experience and big demands for energy saving and environmental friendly products, we OSB change our main products to air source heat pump.
We focus on the heat pump quality, service and market requests.
We have been making and exporting heat pump for over 20 years.
Which cover swimming pool heat pump, high temperature heat pump, DC inverter heat pump, hot water heat pump,ground source heat pump,EVI heat pump and so on. Widely used for both household or commercial projects, such like jacuzzi spa, hot spring, fish farm, hotels, hospital and so on.
Our heat pump products have been more and more popular for all over the world, especially in South Africa, Europe, Asia,North America and so on.
With our OEM and ODM service, we are welcome you to share more about your inquiry in details and precious opinion as well in the coming days.
Now we have equipped with 3 automatic production line, 3 cold/hot condition enthalpy testing lab, fully refrigerant auto-refilling machine, as well as all necessary testing equipment, such as 4-in-1 electricity safety inspection machine and halogen leakage checking machine, etc. All management are executed by folowing ISO9001:2008 system.
We compete, we innovate, we welcome you to join us and be partner with us to make the best products.
Feel free to contact us if you are interested in our high temperature heat pump (high temp heater).